Arsenic Countertop Water Filter System
3 reviews |
Select product option
Benefits
Our Arsenic Countertop Water Filter System is dependable and built to last for years. This countertop system installs in seconds and sits on the counter top for water on demand. Quick and easy to use, stylish, convenient, and effectively removes Arsenic and many contaminants from water.
A diverter valve switches between filtered and unfiltered water
Sits on the counter and easily connects to any kitchen faucet
White (Polypropylene) housing is BPA Free
Great for homes, apartments or office use.
Option for countertop models only: Washable Pre-filtration Filter: use with any countertop system to help remove sediment thus enabling your filter to work more efficiently
Arsenic Removal Water Filter Cartridge
Water travels through an Arsenic-selective resin cartridge, designed specifically for reducing arsenic. Capacity: 1000 gallons, depending on the arsenic type & ppb (parts per billion) of influent water.
SMART Water Filter Cartridge
Water flows through our SMART special house blend of 2 types of coconut-shell GAC (including Catalytic) with 2 types of Eagle Redox Alloys® (9500 & 6500) & anion exchange resin. This blend effectively reduces & removes heavy metals, chlorine & chloramine, pesticides & herbicides, pharmaceutical by-products & other inorganic substances such as petroleum byproducts. Ceramic and Tourmaline balls to enhance the water and maintain a more alkaline pH. To read about how GAC's work, click here. To read about the ERA® Oxidation/Reduction Process, click here.
Water flows through a bed of media made of a special high-purity alloy blend of two dissimilar metals - copper and zinc (ERA-6500, ERA-9500). ERA-6500 and ERA-9500 are major advancements in water treatment technology that works on the electrochemical and spontaneous-oxidation-reduction (Eagle Redox Alloy®) principles. Chlorine is instantaneously and almost inexhaustibly oxidized.
Water flows through ion exchange resins, reducing heavy metals such as lead, copper, aluminum, and water hardness.
Water flows through granulated activated carbon (GAC). GAC is universally recognized and widely used as an effective adsorbent for a wide variety of organic contaminants, such as chlorine (99.9%), chemicals linked to cancer (THM's, benzene) pesticides, herbicides, insecticides, volatile organic compounds (VOC's), PCB's, MTBE's and hundreds of other chemical contaminants that may be present in water causing bad taste and odors in your drinking water.
All Crystal Quest® GAC is a mixed blend of coconut shell and catalytic GAC to address both chlorine, chloramines and these byproducts. 
Carbon Block Water Filter Cartridge
Water travels through a 5-micron solid carbon cartridge for removing volatile organic carbon compounds (VOC's), insecticides, pesticides and industrial solvents and traps particles larger than 5 microns including sediment, silt, sand, and dirt.
Dimensions
| | Polypropylene | Stainless Steel |
| --- | --- | --- |
| Single | 5"L x 13"H x 5"W | 5.5"L x 13.5"H x 5"W |
| Double | 10"L x 13"H x 5"W | 9"L x 13.5"H x 5"W |
| Triple | 15"L x 13"H x 5"W | 14.5"L x 13.5"H x 5"W |
Operating Specs
| | |
| --- | --- |
| Min Operating Pressure | 20 psi (pounds per sq. in.) |
| Max Operating Pressure | 60 psi (pounds per sq. in.) |
| Min Operating Temperature | 40° F |
| Max Operating Temperature | 90° F |
| Max Flow Rate | 0.5 gpm (gallons per minute) |
Replacement Cartridges
Which cartridges are in my system?
Product Name
Single
Double
Triple
Carbon Block Filter Cartridge (2-7/8" x9-3/4")

 

CQE-RC-04000
No
No
Yes
Arsenic Filter Cartridge (2-7/8" x9-3/4") CQE-RC-040082
Yes
Yes
Yes
SMART Filter Cartridge (2-7/8" x9-3/4")

 

CQE-RC-0400
No
Yes 
Yes
Product Manual
Customer Reviews
Write a Review
Ask a Question
08/14/2020
Anonymous

United States
Excellent product
I am very happy with this water filtration system. The water tastes so good! And unlike reverse osmosis it still has good minerals in it. The system is very easy to use and takes up very little counter top space. Installation was more complex than I expected and I ended up getting professional help to install it. I definitely recommend this water filtration system. Crystal Quest customer service, by the way, is impecable and very professional.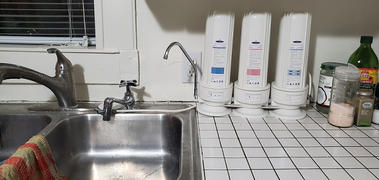 Thank you for choosing us to help you with your water needs, we're glad to hear that we have been able to help you and thank you for the feedback.
02/22/2020
Ross S.

United States
Wrong cartridge
Sent the wrong cartridge. No worries sent the correct one immediately. No charge. I've been using these filters for a couple of years good product.
Simple the Best Products
I am amazed how good these products are. I would definitely buy from them again.