SMART Whole House Water Filter (9-13 GPM)
5 reviews |
Select product option
Clean Water from Every Faucet in Your Home 
Great tasting, healthier water for drinking and cooking
Crystal clear ice cubes
Flavorful coffee, tea, mixes, and meals
Ideal for baby formula, pasta, and soups
Great for pet and plant water, aquariums
Unlimited pure water supply to your kitchen and bath
No heavy cooler bottles to lift
Clean water for steam irons, humidifiers, and household cleaning, such as windows
It is a well-known fact that people should drink eight glasses of water a day to help maintain a healthy lifestyle. With a Crystal Quest Smart Whole House Water Filters you get delicious, refreshing, safe, top-quality drinking water.
Crystal Quest Smart Whole House Water Filters are engineered for maximum filtration and maximum performance with minimum maintenance.
How to Determine Capacity 
Capacity is the amount of water your filter creates clean water for your home. An easier way to think of it is how many bathrooms you have.
1,000,000 capacity equals 1-3 bathrooms
1,500,000 capacity equals 2-4 bathrooms
Pre-filtration
Water flows through a 20" sediment cartridge that removes sediment, silt, sand, and dirt.
Post-filtration
Water flows through a 20" solid carbon cartridge for removing volatile organic carbon compounds (VOC's), & any remaining insecticides, pesticides and industrial solvents.
SMART Water Filter
Water flows through our SMART Multimedia, which includes 2 types of coconut shell Granulated Activated Carbons (Standard & Catalytic GAC) infused with our Eagle Redox Alloys®  6500 & 9500, and ion exchange resin to reduce contaminants such as heavy metals, i.e. lead & mercury, chlorine, chloramine, & inorganic products such as herbicides, pesticides, petroleum/pharmaceutical by-products and Ceramic and Tourmaline balls to enhance the water and maintain a more alkaline pH. 
Water Softener (optional)
Homeowners who have hard water normally complain of scale buildup inside pipes, water heaters and appliances and, when hard water reacts with soap, it can form a sticky residue on surfaces.  It is important to note that hard water is not a health concern.  The only concern with hard water is the deterioration of plumbing, plumbing fixtures and appliances due to scale buildup.  Also, the scale buildup inside a water heater will increase the power or gas required to heat the water.
The Traditional Softener
Water is softened by replacing hard ions like magnesium and calcium with softer sodium or potassium ions.  This means that the magnesium and calcium ions are actually removed from the water.  This is done by an ion exchange resin.  Ion exchange happens when the hard water passes through a bed of beads or zeolite, which is a chemical mixture.  Water softeners must be regenerated regularly with the use of the brine tank, renewing the medias ability to remove hardness from water.  This regeneration is accomplished with a sodium or potassium chloride and water solution which can increase the salt content of your water slightly.
A traditional softener, while removing the calcium and magnesium, will prevent further limescale build up in your appliances and pipes, but will not remove existing buildup.  Additionally, the water will have a somewhat slippery or slimy feel.
Maintenance of the traditional softener systems requires refilling the brine solution or backwash solution periodically with the sodium or potassium chloride salt.  Potassium chloride is the healthier choice but is more expensive.
The Salt-Free Conditioner
 Unlike the traditional softener, the salt-free conditioner does not remove the calcium and magnesium particles.  The media in the conditioner changes the calcium so that it cannot leave limescale and becomes harmless to pipes and appliances.  Instead of ion exchange, it works on a nano-molecular level.  It takes the mineral, under a microscope, it appears as a crystal, and transforms it into a nanoparticle.  When minerals are in a nano-particle form, they dissolve in the water and stay there.  Also, the typical +2 charge on the molecule is removed which takes away the calcium and magnesium particle's ability to attach to pipes and appliances, thereby prevention scale buildup.  In addition, the conditioner will remove existing buildup in pipes and appliances and apply a protective layer to help prevent additional buildup.  Since the conditioner does not require backwashing, no salt product is added to your water and you still have the health benefits of calcium and magnesium minerals.    
 Important Note:
It is important to understand that if a hardness test is done after using a traditional softener, you will have reduced hardness reading.  If a hardness test is done after conditioning, you will have the same hardness reading.  This is because, again, the calcium is still in the water after conditioning.  It is simply rendered harmless to your plumbing and appliances.  If water spotting on dishes is a major concern, you will still have this with the conditioner.
More on Hard Water
What is hard water? Water described as "hard" is high in dissolved minerals, specifically calcium and magnesium. It is estimated that more than 80% of homes across the country are affected by hard water. What is more staggering, however, is that many homeowners do not know if they have hard water or how to detect it.
The "hardness" of water is determined by the combined number of calcium and magnesium grains present. The higher the number of grains per gallon, the "harder" your water is. These minerals are picked up by "soft" rainwater as it travels down through the soil to the underground water table. Water that comes into contact with limestone (calcium and magnesium rock) has a much higher content of these hard minerals. Hard water has a negative impact on you, your household, and your pocketbook.
Benefits
Water heater efficiency is increased up to 29%
Save up to 70% on household detergents and soaps
Soap and shampoo will lather better, resulting in softer skin and more manageable hair
Save up to 25% on personal care items such as hair products and shaving cream
Up to 30% longer life for washing machines, dishwashers, coffeemakers, humidifiers, water heaters, and household plumbing systems
Fabrics will be whiter, brighter, and last up to 33% longer
Dishes come clean more easily, without spots
Bath and kitchen fixtures will have less soap
You probably have hard water. If left untreated, here is what can happen:
The minerals in hard water will cause yellow stains on plumbing fixtures and be deposited as scale, eventually clogging plumbing and shortening the life of appliances like washing machines, water heaters, and dishwashers by up to 30%. Scale deposits not only cut down on the efficiency of these appliances, they cost you money, increasing both energy and maintenance bills.
Hard water dulls your hair and dries your skin. Shaving is more difficult in hard water.
Hard water can leave unsightly film buildup on glasses and dishes.
Hard water leaves a filmy soap ring around bath and kitchen faucets, which makes cleanup more difficult.
Additional Product Options
Leak Detector Valve: Used to detect a water leak within a water filter system and shuts down the water supply to prevent flooding.
12 GPM UltraViolet Water Sterilizer: Specifically designed to meet the demanding microorganism control concern. These microorganisms can range from bacteria and viruses to algae and protozoa. A major advantage of UV treatment is that it is capable of disinfecting water faster than chlorine without cumbersome retention tanks and harmful chemicals to your drinking water.
Specifications
| | | |
| --- | --- | --- |
| Home Water Usage | 1-3 Bathrooms | 2-4 Bathrooms |
| Filter Media Volume | 1.5 + cubic feet | 2.0 + cubic feet |
| Capacity (gallons) | 1,000,000 | 1,500,000 |
| Service Flow (GPM) | 9-11 | 10-13 |
| Tank Dimensions | 10" x 54" | 12" x 52" |
| Material | Stainless Steel or Fiberglass | Stainless Steel or Fiberglass |
| Backwash | Automatic | Automatic |
| Brine Tank Dimensions* | 18" x 33" | 18" x 33" |
| Grain Capacity* | 48,000 | 60,000 |
*When you have a softener selected
Replacement Media
Replacement Cartridges
Product Manual
Product Brochure
Schematics
Customer Reviews
Write a Review
Ask a Question
03/14/2020
Michael R.
United States
Great Whole Home Filter System
I have had the system in full operation for 4 days now and am really enjoying it. I originally ordered everything the 7th of February and was told to expect 10-14 days for arrival. It arrived in less that 5 days and my wife had to move the heavy boxes on her own :-(. When I got home from my trip, I opened everything and discovered that the up-flow valve for the tankless softener was missing from the shipment so I had to call and get it sent to me. That meant canceling the plumber install and postponing until the valve arrived. A week later, the plumber was able to come and provide an estimate. Fast forward another week and installation begins but discovered that my water pressure was at 120 psi. System remained in by-pass for another week until the plumber could order and install the pressure reducer and on 11 March, finally in full operation! The first day after install the water tasted a bit funny but now everything is great and we are enjoying the system very much. Thank you Cyrstal Quest for working through the process and getting me all the help and assistance needed.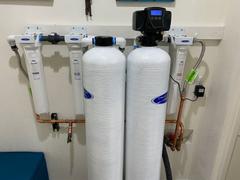 01/05/2020
Zachary B.
United States
Could not be happier!!
We had above recommended drinking levels of arsenic in our water. After talking to a few name brand installers about a whole house system, I decided to do this myself for half the cost. The Crystal Quests system arrived on time and was well packaged, installation was easy and clear with solid instructions. And the best part, tested the water and arsenic levels were 'none detected'. Thank you!
Too soon to give real feedback
I received the Whole House Filter system in a timely manner. I will have a professional plumber install it on Monday, 12/18/18. I'll provide additional feedback after 30-days when this system is operating in my home.
Nitrate filter
So far I am very happy with my purchase. We have not had a chance to install the filter as it is going into a remodel that tested very high for nitrates. This is my second purchase from crystal quest. In a previous house we installed an iron filtration system, and we're very pleased with it.
Amazing!
Best product from the best company. If anyone cares about having a quality filter, this is it!