Fluoride Under Sink Water Filter System
10 reviews |
Warning: Although a leak detector/flood-prevention valve is optional with your purchase, it is highly recommended to avoid property damage. Due to numerous unpredictable circumstances including installation errors, flood-damage is subject to occur without a leak-detector valve. Including a leak-detector will allow the water system to be flood-proof.
Benefits
Our Fluoride Under Sink Water Filter System reduces or removes contaminants such as chlorine, heavy metals, and fluoride from tap water to offer the freshest taste to you. This system is the perfect solution for any household. It is quick and easy to install and use, attractive, and convenient.
Installs neatly under the sink.
Comes with a beautiful faucet and all necessary installation hardware
When considering installation, if current under sink plumbing is hard copper tubing the saddle valve would be used; for flex tubing, the T-valve would be required. While ordering a prompt will require that an installation valve is specified in order to progress through the order entry screen.
Which cartridges are in my system?
| | Single | Double | Triple |
| --- | --- | --- | --- |
| Fluoride Filter | Yes | Yes | Yes |
| SMART Filter | No | Yes | Yes |
| Carbon Block Filter | No | No | Yes |
Fluoride Water Filter Cartridge
Water flows through a fluoride removal water filter cartridge containing Fluoride Charcoal Granulated Activated Carbon (GAC) unless Aluminum Oxide is requested. This media is specifically designed to have a high affinity for Fluoride, Lead, and Arsenic. It removes metals through a mixture of adsorption and chemical reaction with the media; therefore, the elimination is not reliant on ion exchange. It has a uniform particle size, is physically stable and can be used over a wide pH range. Capacity: 4500 ppm Fluoride (Avg. 1000 to 1500 Gallons). As high as 11000 ppm F+ with effluent levels below 0.2 ppm from 10 ppm F+ feed.
SMART Water Filter Cartridge
Water flows through a bed of media made of a special high-purity alloy blend of two dissimilar metals - copper and zinc (ERA-6500, ERA-9500). ERA-6500 and ERA-9500 are major advancements in water treatment technology that works on the electrochemical and spontaneous-oxidation-reduction (Eagle Redox Alloy®) principles. Chlorine is instantaneously and almost inexhaustibly oxidized.
Water flows through ion exchange resins, reducing heavy metals such as lead, copper, aluminum, and water hardness.
Water flows through granulated activated carbon (GAC). GAC is universally recognized and widely used as an effective adsorbent for a wide variety of organic contaminants, such as chlorine (99.9%), chemicals linked to cancer (THM's, benzene) pesticides, herbicides, insecticides, volatile organic compounds (VOC's), PCB's, MTBE's and hundreds of other chemical contaminants that may be present in water causing bad taste and odors in your drinking water.
All Crystal Quest® GAC is a mixed blend of coconut shell and catalytic GAC to address both chlorine, chloramines and these byproducts.
Carbon Block Water Filter Cartridge
Water travels through a 5-micron solid carbon cartridge for removing volatile organic carbon compounds (VOC's), insecticides, pesticides and industrial solvents and traps particles larger than 5 microns including sediment, silt, sand, and dirt.
Dimensions
| | Dimensions |
| --- | --- |
| Single | 5"L x 14"H x 5"W |
| Double | 10"L x 14"H x 5"W |
| Triple | 15"L x 14"H x 5"W |
Operating Specs
| | |
| --- | --- |
| Connection Size | 1/4" |
| Min Operating Pressure | 20 psi (pounds per sq. in.) |
| Max Operating Pressure | 60 psi (pounds per sq. in.) |
| Min Operating Temperature | 40° F |
| Max Operating Temperature | 90° F |
| Max Flow Rate | 0.5 gpm (gallons per minute) |
Replacement Cartridges
Product Name
SKU
Fluoride Filter Cartridge (2-7/8"x9-3/4")
CQE-RC-

04126

SMART Filter Cartridge (2-7/8"x9-3/4")
CQE-RC-04002
Carbon Block Filter Cartridge (2-7/8"x9-3/4")
CQE-RC-04000
Product Manual
*A Leak Detector Smart Valve should be purchased/installed to prevent unknown water line conditions such as high water pressure, lack of pressure regulator, water spiking or hammering, or negligent installation.
Customer Reviews
Write a Review
Ask a Question
Filter Reviews:
Crystal Quest
system
customer service
filter
counter
quality
unit
schedule
Sales Rep.
tasting water
09/23/2020
cordell l.
United States
The Three, includes F.
Installed on the Fall Equinox. All looks great. Metal frame better than the old plastic one.
Thank you for your positive feedback! We are so happy you are experiencing great results with your products and as always thank you for choosing us here at Crystal Quest.
05/20/2020
R. Embich
United States
Great filtered water - refreshing taste!
We have been Crystal Quest customers for over a decade. Sad to say a couple years ago we tried going to a leading pitcher water filter with resin filtration media - the taste was off at times and we found ourselves getting bloated from it - oddly enough. Our one son decided to buy himself bottled water during this "pitcher filter" phase and really wished we would get a new Crystal Quest filtration system again. We finally came to our senses and purchased a new triple filter system (under counter) which feeds our refrigerator's ice maker/cold water dispenser and a sink based water dispenser faucet. We are so happy to have refreshing tasting water again. Thank you to the folks at Crystal Quest for providing so many filter options.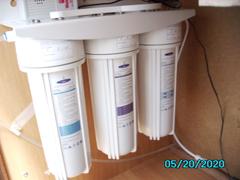 05/17/2020
Charles m. Walsh
United States
Purified Water Tastes Great
I've had the system installed for 2 weeks. Installation went well following instructions. I recommend determining how you will tie into your main cold water line when ordering or certainly prior to installation. It did take about a week before the air and filter sediment cleared completely. The water tastes great now.