Commercial Fluoride Removal Water Filter Systems
Crystal Quest Commercial Fluoride Removal Systems are designed and manufactured for outstanding service and are ideal for treating a variety of different water problems. Utilizing the best filtration media and components, our systems outperform and outlast the competition.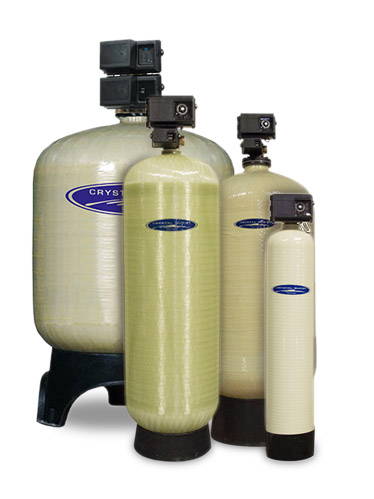 We work with you to select, or design, the most effective system for your needs by analyzing all of your objectives.

Our systems are designed and optimized for longevity, utilizing only top quality components and filtration media.

Built around the idea of minimal maintenance, our systems aid in decreasing your overall operational expenses.

Our modular systems can be arranged and designed to optimally accommodate any use-case imaginable.

Our automatic backwashing control valves extend the life of your filtration media, reduce maintenance, and increase effectiveness.

Our large selection of tank sizes will accomodate for various flow rates ranging from 14 to 205 gallons per minute.
This system removes metals through a mixture of adsorption and chemical reaction with the media and is pecifically designed to have a high affinity for Fluoride, Lead and Arsenic. The system is available in Aluminum Oxide, Calcium GAC, or a mixed blend. All three options contain ERA 6500 and 9500, aiding in oxidation and bacteria prevention.
Service Flow Rate ( GPM)
15
20
35
60
75
185
200
205
Capacity (gallons)
1,500,000
2,000,000
3,500,000
5,000,000
7,500,000
10,000,000
15,000,000
20,000,000
Model
CQE-CO-02075
CQE-CO-02076
CQE-CO-02077
CQE-CO-02078
CQE-CO-02079
CQE-CO-02080
CQE-CO-02081
CQE-CO-02082
Valve
2510
2850
2850
2900
2900
3900
3900
3900
Type
Single
Single
Single
Single
Single
Single
Single
Single
Pipe Size
1.5"
2"
2"
2"
2"
3"
3"
3"
PSI Range
35-60
35-60
35-60
35-60
35-60
35-60
35-60
35-60
Cu. Ft. Resin
3
4
7
10
15
20
30
40
Mineral Tank Size (in.)
14x65
16x65
21x62
24x72
30x72
36x72
42x72
48x72
Service flow (gpm)
15
20
35
60
75
185
200
205
Peak flow (gpm)
22
41
60
95
140
250
270
280
Backwash flow (gpm)
5
7
12
15
25
35
50
65
Space Required (in.) (WxDxH)
15x16x75
17x18x75
23x24x84
24x24x95
32x32x95
40x48x95
46x54x95
52x60x95
15
20
35
60
75
185
200
205
Service Flow Rates (GPM)
Fluoride (F-) is a common constituent of many minerals. Municipal water treatment plants commonly add fluoride to the water to prevent tooth decay. Generally they try to maintain a level of 1.5 - 2.5 mg/l. Concentrations above 5 mg/l are detrimental to tooth structure. High concentrations are contained in waste water from the manufacturing of glass and steel, as well as from foundry operations. Organic fluoride is present in vegetables, fruits and nuts. Inorganic fluorine, under the name of sodium fluoride, is a waste product of aluminum and is used in some rat poisons. The MCL for drinking water established by the U.S. EPA is 4 mg/l.
How It Works
Fluoride Removal Media is a synthetic aluminum oxide that is specially processed to have a minimum of fines and other foreign matter. It removes metals through a combination of adsorption and chemical reaction with the media. Therefore, the removal is not dependent on ion exchange, yet has a uniform particle size similar to ion exchange resins. It has a minimum shrinking or swelling, and low pressure loss. Fluoride Removal Media is physically stable and can be used over a wide pH range.
Crystal Quest® Commercial Fluoride Water Filters utilize high capacity synthetic adsorbent media that is highly selective for fluoride, lead and arsenic. An extremely high surface area and pore distribution give this media the highest possible operating capacity and the lowest possible leakage.