Fluoride Removal Refrigerator / In-line Water Filter System
2 reviews |
Select product option
Description

Description

Crystal Quest® Fluoride Removal Refrigerator / In-line Water Filter System is designed for use on refrigerators with ice-makers and/or water through the door. It may be used with water fountains, water coolers, commercial coffee makers and ice machines as well. High-pressure quick-connect fittings can be used on either 1/4" o.d. copper or plastic tubing. Can be manufactured with 3/8" which would require additional conversion package to be ordered.

Water flows through a FLUORIDE REMOVAL cartridge containing Fluoride Charcoal Granulated Activated Carbon (GAC) , unless  Aluminum Oxide  is requested. This media is specifically designed to have a high affinity for Fluoride, Lead and Arsenic. It removes metals through a mixture of adsorption and chemical reaction with the media; therefore, the elimination is not reliant on ion exchange. It has uniform particle size, is physically stable and can be used over a wide pH range. Capacity: 4500 ppm Fluoride (Avg. 1000 to 1500 Gallons).* As high as 11000 ppm F+ with effluent levels below 0.2 ppm from 10 ppm F+ feed.*
Capacity: 4500 ppm Fluoride (Avg. 1000 to 1500 Gallons) .* As high as 11000 ppm F+ with effluent levels below 0.2 ppm from 10 ppm F+ feed.*
Also effectively removes lead and arsenic. 

Specifications

Specifications

Min Operating Pressure: 20 psi (pounds per sq. in.)
Max Operating Pressure: 60 psi (pounds per sq. in.)
Min Operating Temperature: 40 degrees F
Max Operating Temperature: 90 degrees F
Max Flow Rate: 0.3-0.5 gallons per minute

Dimensions: 6.5 x 6.5 x 14.25
Weight: 5 lbs.

* This Fluoride System and Media will accommodate for fluoride removal on municipal water that consists of inorganic fluoride. If fluoride is organic or from natural water sources such as a well please speak with a Crystal Quest® Associate for system recommendation.

Consumables/Parts

Replacement Cartridges

| Product Name | SKU |
| --- | --- |
| Fluoride Removal Filter Cartridge (2-7/8"x9-3/4") | CQE-RC-04006 |

Installation Instructions

Product Manual
Description
Crystal Quest® Fluoride Removal Refrigerator / In-line Water Filter System is designed for use on refrigerators with ice-makers and/or water through the door. It may be used with water fountains, water coolers, commercial coffee makers and ice machines as well. High-pressure quick-connect fittings can be used on either 1/4" o.d. copper or plastic tubing. Can be manufactured with 3/8" which would require additional conversion package to be ordered.
Water flows through a FLUORIDE REMOVAL cartridge containing Fluoride Charcoal Granulated Activated Carbon (GAC) , unless  Aluminum Oxide  is requested. This media is specifically designed to have a high affinity for Fluoride, Lead and Arsenic. It removes metals through a mixture of adsorption and chemical reaction with the media; therefore, the elimination is not reliant on ion exchange. It has uniform particle size, is physically stable and can be used over a wide pH range. Capacity: 4500 ppm Fluoride (Avg. 1000 to 1500 Gallons).* As high as 11000 ppm F+ with effluent levels below 0.2 ppm from 10 ppm F+ feed.*
Capacity: 4500 ppm Fluoride (Avg. 1000 to 1500 Gallons) .* As high as 11000 ppm F+ with effluent levels below 0.2 ppm from 10 ppm F+ feed.*
Also effectively removes lead and arsenic. 
Specifications
Min Operating Pressure: 20 psi (pounds per sq. in.)
Max Operating Pressure: 60 psi (pounds per sq. in.)
Min Operating Temperature: 40 degrees F
Max Operating Temperature: 90 degrees F
Max Flow Rate: 0.3-0.5 gallons per minute
Dimensions: 6.5 x 6.5 x 14.25
Weight: 5 lbs.
* This Fluoride System and Media will accommodate for fluoride removal on municipal water that consists of inorganic fluoride. If fluoride is organic or from natural water sources such as a well please speak with a Crystal Quest® Associate for system recommendation.
Replacement Cartridges
| Product Name | SKU |
| --- | --- |
| Fluoride Removal Filter Cartridge (2-7/8"x9-3/4") | CQE-RC-04006 |
Product Manual
Customer Reviews
Write a Review
Ask a Question
Filter Reviews:
compression fitting
brass compression
brass stop
factory jacket
supply
trip
hardware store
deal
money
tubing
01/04/2021
Zachary M.

United States
A must have!
This is a superior product and you can really taste the quality and difference. Well worth the money and will be purchasing again. The only thing is had to go to local hardware store for correct compression fittings from supply to filter then to fridge...no big deal. Cost $5 to fix. I didn't want to mess with factory jacket on tubing from the fridge. So I got a 1/4 - 1/4 compression fitting, replaced the brass compression with plastic, and put a brass stop in the tubing. Just thought I would share that and save someone a trip. The water tastes great! We're gonna be spoiled with this.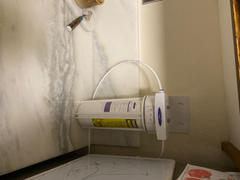 Zachary, We appreciate your positive feedback and being a customer of ours here at Crystal Quest. Thank you for your time and we hope you enjoy your filter.
02/15/2020
Christopher B.

United States
Easy to install and the water tastes clean.
I previously used the three canister counter top filter but the wife said we need to be able to hide it. Very easy to install behind the fridge and only adds a couple inches to the footprint. Would recommend to everyone!