SMART Under Sink Water Filter System
6 reviews |
Benefits
Our SMART Under Sink Water Filter System reduces or removes contaminants such as chlorine & heavy metals from tap water to offer the freshest taste to you. The perfect solution for any household, this water filter system is quick and easy to install and use, attractive, and convenient.
This solid state water filter uses the latest technologies that blend the adsorption capabilities of coconut shell activated carbon with Eagle Redox Alloy® and more.
Installs neatly under the sink.
Comes with a beautiful faucet and all necessary installation hardware.
Conveniently provides 10,000 gallons of water (1-3 years, or when the flow of water will automatically either stop or slow down greatly.)
Great for homes, apartments or office use.
When considering installation, if current under sink plumbing is hard copper tubing the saddle valve would be used; for flex tubing, the T-valve would be required. While ordering a prompt will require that an installation valve is specified in order to progress through the order entry screen.
SMART Water Filter Cartridge
Water flows through a bed of media made of a special high-purity alloy blend of two dissimilar metals - copper and zinc (ERA-6500, ERA-9500). ERA-6500 and ERA-9500 are major advancements in water treatment technology that works on the electrochemical and spontaneous-oxidation-reduction (Eagle Redox Alloy®) principles. Chlorine is instantaneously and almost inexhaustibly oxidized.
Water flows through ion exchange resins, reducing heavy metals such as lead, copper, aluminum, and water hardness.
Water flows through granulated activated carbon (GAC). GAC is universally recognized and widely used as an effective adsorbent for a wide variety of organic contaminants, such as chlorine (99.9%), chemicals linked to cancer (THM's, benzene) pesticides, herbicides, insecticides, volatile organic compounds (VOC's), PCB's, MTBE's and hundreds of other chemical contaminants that may be present in water causing bad taste and odors in your drinking water.
All Crystal Quest® GAC is a mixed blend of coconut shell and catalytic GAC to address both chlorine, chloramines and these byproducts. 
Carbon Block Water Filter Cartridge
Water travels through a 5-micron solid carbon cartridge for removing volatile organic carbon compounds (VOC's), insecticides, pesticides and industrial solvents and traps particles larger than 5 microns including sediment, silt, sand, and dirt.
Sediment Water Filter Cartridge
Water travels through a sediment filter cartridge that removes sediment, silt, sand, and dirt. This also helps to extend the life of the water filter system.
Dimensions
| | Dimensions |
| --- | --- |
| Single | 5"L x 14"H x 5"W |
| Double | 10"L x 14"H x 5"W |
| Triple | 15"L x 14"H x 5"W |
Operating Specs
| | |
| --- | --- |
| Connection Size | 1/4" |
| Min Operating Pressure | 20 psi (pounds per sq. in.) |
| Max Operating Pressure | 60 psi (pounds per sq. in.) |
| Min Operating Temperature | 40° F |
| Max Operating Temperature | 90° F |
| Max Flow Rate | 0.5 gpm (gallons per minute) |
Replacement Cartridges
Which cartridges are in my system?
| Product Name | Single | Double | Triple |
| --- | --- | --- | --- |
| Sediment Filter Cartridge (2-7/8" x9-3/4") CQE-RC-04001 | No | No | Yes |
| SMART Filter Cartridge (2-7/8" x9-3/4") CQE-RC-04002 | Yes | Yes | Yes |
| Carbon Block Filter Cartridge (2-7/8" x9-3/4") CQE-RC-04000 | No | Yes | Yes |
Product Manual
*A Leak Detector Smart Valve should be purchased/installed to prevent unknown water line conditions such as high water pressure, lack of pressure regulator, water spiking or hammering, or negligent installation.
Customer Reviews
Write a Review
Ask a Question
Filter Reviews:
things
filters
system
water
filter cartridges
space
drinking water
bracket
water taste
complaints
06/19/2021
Anonymous

United States
Replacement filters and a new housing
Fine as expected, replaced in kind
03/26/2021
David S.

United States
Excellent filter - easy to install
I replaced a Faucetmate system with this filter. Faucetmate was taken over by 3M and 3M no longer makes the proper filters. I'm happier with a Crystal Quest system anyway. I feel like they'll be supported for a while, so please don't sell out to 3M. So far my water tastes great. The filter cartridges are very big in diameter - the Faucetmates were long and thin, so I had to rearrange where I keep things under the sink. That took almost as long as the installation. My only complaints are: 1 - The bracket leaves space behind the filters. It would be better for me if the bracket were shorter so the filters fit more snugly against the cabinet and took up less space 2 - I would like a pair of 90 degree fittings to be included in the kit. That way I would take up less space left to right
Thank you so much for your positive feedback. We greatly appreciate it.
07/13/2020
Steven H.

United States
Second system...
We moved and installed a new under sink 3 filter unit with water leak shutoff valve. The new system installed even easier that the first one with the compression fittings. The ice maker kit worked great. Water tastes great and am happy to not have to purchase bottled water anymore. Especially during these uncertain times.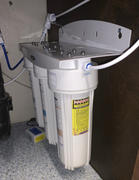 Thank you for choosing us to help you with your water needs, we're glad to hear that we have been able to help you and thank you for the feedback.