SMART/Fluoride Removal Water Pitcher Cartridge
17 reviews |
Description
Our SMART / Fluoride Removal Water Pitcher Filter Cartridge* removes Fluoride along with chlorine, chloramines, their by-products, inorganic compounds, heavy metals while reacting with water hardness which results in enhanced alkalinity.
*Cartridge color is subject to change without notice
Customer Reviews
Write a Review
Ask a Question
Filter Reviews:
filter
water
Crystal Quest
water quality
pitcher
city water
difference
fluoride
SMART
company
12/08/2019
Valerie H.
United States
Water taste amazing!
My filter kept draining very slowly and it was less than six months. So I bought a new filter and it has made all the difference in the world. So I started on the Auto program for every 6 months. We only drink this water as it is the best tasting.
02/19/2020
Anonymous
United States
Clean and safer
So easy to set up and ready to use. wish I had one years ago! Great taste... almost like being in the mountains again.
01/26/2020
Anonymous
New Zealand
Best Pitcher and Filter for me
I recently brought the pitcher several months back (with the standard SMART filter) and it has been operating smoothly ever since. I brought the SMART/fluoride filter just recently after hearing about the negative affects of fluoride. I've definitely noticed the difference and the water tastes great! Thanks Crystal Quest!
08/20/2019
Anonymous
United States
Water Pitcher
The water tastes great. The only issue we have experienced so far is some times the non-filtered water drips out from where the date dial is when I am pouring out the filtered water. Not sure if you can just remove the date dial feature so this does not continue to happen. Also when I purchased my water pitcher system, it was not made clear at all that the cartridge was not included. So I purchased 2 water pitcher systems first and waited patiently to receive them and then when I finally got them, they were no cartridges. So then I had to order the cartridges and wait even longer.
Hello, Our apologies for the overlook and lack of service. This is not typical of service, our water pitchers include a filter cartridge of your choice. These missing cartridges may be due to the sudden spike in demand for this product. I would be glad to have two matching cartridges sent out, free of charge. Additionally, I will make sure that with any future order you will receive a 10% off code for 1 time use. Please send in your order # or purchasing information so that I may continue forward with delivery.
06/12/2019
Anonymous
United States
Good filtration but pitcher has flaws
The product does an exceptional job at filtering out contaminants, however there are a few design flaws: -Pitcher cannot be poured with water in the pre-filtration reservoir without having unfiltered water also pour out. -Pitcher does not fully filter (drain) about 7-10% of the water in the pre-filtration reservoir. Causing the first issue to always happen. -Pitcher overall capacity is low. -Filtration speed is fast. -Water quality excellent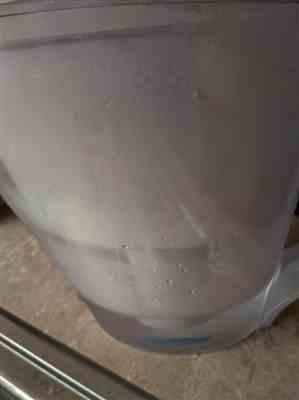 Liquid error: Could not find asset snippets/adroll-pixel.liquid