Fluoride Removal Inline Filter Cartridge
4 reviews |
Description
Applications
Pre and

 

post point-of-use

 

reverse osmosis
Ice maker and refrigerator 
Water cooler/fountain
* This Fluoride System and Media will accommodate for fluoride removal on municipal water that consists of inorganic fluoride. If fluoride is organic or from natural water sources such as a well please speak with a Crystal Quest® Associate for system recommendation.
Customer Reviews
Write a Review
Ask a Question
Filter Reviews:
water
unit
Crystal Quest
purchase
quality
size
fluoride
difference
family
hand
03/17/2022
Jeffrey I.

United States
Great Product...As I hate fluoride in our water...
I was excited to receive 3 new products and get them set up and try them out to see what the family thinks as there's 4 of us living here. I first hooked up the hand held shower and was immediately impressed with the weight and obvious quality with the shower head itself. The typical home supply places provide hand helds yet they weigh barely nothing and feel cheap yet this head felt like top shelf stuff rarely seen. Using this just one time it was easy to see the amazing difference in the feel of the water. And being able to shut off the water at the shower head is a great plus when washing our 12lb little dog as it makes it so much easier. Regarding the osmosis and the fluoride filter I was unable to hook up this counter top unit at 1st due to my kitchen faucet has external threads size 55/64ths and unfortunately the correct adapter needed wasn't in the kit. Tho I do realize there must be lots of different applications so having the "odd" one didn't stop me from using this the very day it arrived as I took it to one of my bathrooms and was able to hook it up and did get over 2 gals of water in under 2 hours time. (The next day I went to ACE Hardware and took the parts I needed to match up with the adapter for my kitchen and found I needed a size; ( 55/64 female - 3/4 male ) for under $5 so no big deal really and now I am all hooked up in my kitchen exactly where I envisioned placing this unit. We are on municipal water so I ordered a fluoride filter and was very pleased to find this cartridge was all installed with the basic unit as I was not expecting that. Pleasantly surprised as I thought I would have to add this filter to the main unit myself. Now that it is all installed we are using about 3+ gals per day for drinking water, tea, coffee, pet water and even brushing our teeth. So over all great job Crystal Quest with a good product at a great price to boot...I bought enough stuff for free shipping = another benefit of my purchase... Thanks to the folks at Crystal Quest... JI
09/11/2021
Anonymous

United States
Yay Yay Yay. Simple answer for fluoride free water
Excellent product. We had our plumber install this in the cabinet above our refrigerator as we don't have room behind fridge. It is perfect! Now we have fluoride free ice and water. And we can still use our build in filter in fridge for other filtering needs. Win win.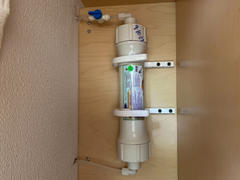 01/19/2020
Anonymous

United States
Excellent
This was my second purchase from the company. I had an issue with the unit I received, but customer service resolved it quickly. My new system is working perfectly. I also ordered the additional fluoride removal filter and I am very pleased with the results. My water tastes absolutely delicious. I will definitely re-order in the future and highly recommend Crystal Quest .