Turbidity Whole House Water Filter
6 reviews |
Select product option
Remove Turbidity from Your Drinking Water
Our Whole House Sediment Water Filters fractured edges and irregular surface provides a high surface area and a complex flow path for efficient removal of suspended matter throughout the filter bed, typically reducing suspended solids down to the 5-20 micron range.
Crystal Quest® Whole House Sediment Water Filters larger particle size creates less pressure loss through the filter and allows deeper sediment penetration into the bed for higher sediment loading and longer filter runs. This large and irregular shape prevents the screening and caking of sediment in the top several inches of the filter bed as happens in the typical sand filter, thus preventing a rapid buildup of headloss and blinding problems. Crystal Quest® Whole House Sediment water Filters light weight means lower backwash rates and better bed expansion to release trapped sediment and rinse the filter media during the backwash cycle. This ideal combination of particle shape, size, and density make it a good choice where quality water filtration and water conservation are important.
Pre-filtration
Water flows through a 20" sediment cartridge that removes sediment, silt, sand, and dirt.
Turbidity Removal Water Filter
Water flows through a natural Zeolite mineral tank, efficiently removing sediment and suspended matter down to 5-micron range. In addition, we add our media, ERA® 6500 & 9500 to prevent bacteria growth.
Water Softener (optional)
Water flows through an ion exchange resin and brine water conditioner.
SMART Water Filter (optional)
Water flows through our SMART Multimedia, which includes 2 types of coconut shell Granulated Activated Carbons (Standard & Catalytic GAC) infused with our Eagle Redox Alloys®  6500 & 9500, and ion exchange resin to reduce contaminants such as heavy metals, i.e. lead & mercury, chlorine, chloramine, & inorganic products such as herbicides, pesticides, petroleum/pharmaceutical by-products and Ceramic and Tourmaline balls to enhance the water and maintain a more alkaline pH. 
Post-filtration
Water flows through a 20" solid carbon cartridge for removing volatile organic carbon compounds (VOC's), & any remaining insecticides, pesticides and industrial solvents.
Additional Product Options
Leak Detector Valve: Used to detect a water leak within a water filter system and shuts down the water supply to prevent flooding.
12 GPM UltraViolet Water Sterilizer: Specifically designed to meet the demanding microorganism control concern. These microorganisms can range from bacteria and viruses to algae and protozoa. A major advantage of UV treatment is that it is capable of disinfecting water faster than chlorine without cumbersome retention tanks and harmful chemicals to your drinking water.
Specifications
| | | |
| --- | --- | --- |
| Filter Media Volume | 1.5 cubic feet | 2.0 cubic feet |
| Capacity (gallons) | 750,000 | 1,000,000 |
| Service Flow (GPM) | 9-11 | 10-13 |
| Tank Dimensions | 10" x 54" | 12" x 52" |
| Material | Stainless Steel or Fiberglass | Stainless Steel or Fiberglass |
| Backwash | Automatic | Automatic |
| Brine Tank Dimensions* | 18" x 33" | 18" x 33" |
| Grain Capacity* | 48,000 | 60,000 |
*When you have a softener selected
Replacement Media
Replacement Cartridges
Customer Reviews
Write a Review
Ask a Question
Filter Reviews:
installation
arsenic
plumber&quot
name brand installers
drinking levels
none
Crystal Quests
levels
cost
company
08/30/2022
Anonymous

United States
finally working well
First "plumber" installation was an expensive nightmare, done incorrectly. Once it was done correctly by another company, it has worked well, and dropped arsenic from 86ppb to 3ppb.
03/14/2020
Michael R.

United States
Great Whole Home Filter System
I have had the system in full operation for 4 days now and am really enjoying it. I originally ordered everything the 7th of February and was told to expect 10-14 days for arrival. It arrived in less that 5 days and my wife had to move the heavy boxes on her own :-(. When I got home from my trip, I opened everything and discovered that the up-flow valve for the tankless softener was missing from the shipment so I had to call and get it sent to me. That meant canceling the plumber install and postponing until the valve arrived. A week later, the plumber was able to come and provide an estimate. Fast forward another week and installation begins but discovered that my water pressure was at 120 psi. System remained in by-pass for another week until the plumber could order and install the pressure reducer and on 11 March, finally in full operation! The first day after install the water tasted a bit funny but now everything is great and we are enjoying the system very much. Thank you Cyrstal Quest for working through the process and getting me all the help and assistance needed.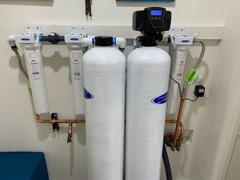 01/05/2020
Zachary B.

United States
Could not be happier!!
We had above recommended drinking levels of arsenic in our water. After talking to a few name brand installers about a whole house system, I decided to do this myself for half the cost. The Crystal Quests system arrived on time and was well packaged, installation was easy and clear with solid instructions. And the best part, tested the water and arsenic levels were 'none detected'. Thank you!