Guardian Whole House Water Filter
5 reviews |
Select product option
Description
Water Travels Through 3 Stages of Filtration
Stage 1  - Water flows through two 2 types of coconut shell Granulated Activated Carbons (Premium & Catalytic GAC). These are meant to reduce contaminants such as heavy metals, i.e. lead & mercury, chlorine, chloramine, & inorganic products such as herbicides, pesticides, and petroleum/pharmaceutical by-products.
Stage 2 

-

The GAC is infused with our Eagle Redox Alloys® 6500 to prevent and reduce the potential growth of bacteria and algae.
Stage 3 - Water flows through a 10" Carbon Block cartridge that removes VOCs (like commercial/industrial solvents, cleaners, paints, & dyes) and leaves you with the cleanest tasting water.
*If present in the water
How to Determine Capacity 
Capacity is the amount of water your filter creates clean water for your home. An easier way to think of it is how many bathrooms you have.
750,000 capacity equals 1-3 bathrooms
1,000,000 capacity equals 2-4 bathrooms
Water Without Breaking the Bank
The tank holds a large amount of water filtration carbon media, increasing the overall performance and lifespan of the filter. When it comes time to replace the media, every 5-10 years, simply replace the media inside the tank. There is no additional plumbing required and no need to replace the entire tank. The system requires no electricity.
Benefits
Great tasting, healthier water for drinking and cooking
Crystal clear ice cubes
Flavorful coffee, tea, mixes, and meals
Ideal for baby formula, pasta, and soups
Great for pet and plant water, aquariums
Unlimited clean water supply to your kitchen, bath, and laundry
No heavy cooler bottles to lift
Clean water for steam irons, humidifiers, and household cleaning
It is a well-known fact that people should drink eight glasses of water a day to help maintain a healthy lifestyle. With Crystal Quest Whole House Water Filters, you get delicious, refreshing, safe, top-quality drinking water.
Crystal Quest Guardian Series Whole House Water Filters are engineered for maximum filtration and maximum performance with minimum maintenance.
Salt-Free Water Softener (Optional)
Water passes through an anti-scale media and without a brine solution there is no need to backwash. This process neutralizes the minerals instead of removing them, allowing water to flow freely through your system without sticking to your pipes, dishes, or you!  If you have a hardness level of 25 GPG or higher please speak with a water specialist for a recommendation.
Additional Product Options
Leak Detector Valve: Used to detect a water leak within a water filter system and shuts down the water supply to prevent flooding.
12 GPM UltraViolet Water Sterilizer: Specifically designed to meet the demanding microorganism control concern. These microorganisms can range from bacteria and viruses to algae and protozoa. A major advantage of UV treatment is that it is capable of disinfecting water faster than chlorine without cumbersome retention tanks and harmful chemicals to your drinking water.
Specifications
| | | |
| --- | --- | --- |
| Home Water Usage | 1-3 Bathrooms | 2-4 Bathrooms |
| Filter Media Volume | 1.5 cubic feet | 2.0 cubic feet |
| Capacity (gallons) | 750,000 | 1,000,000 |
| Service Flow (GPM) | 9-11 | 10-13 |
| Tank Dimensions | 10" x 54" | 12" x 52" |
| Material | Fiberglass |  Fiberglass |
| Backwash | Upflow | Upflow |
Replacement Media
Replacement Cartridges
Product Name
SKU
Carbon Block Cartridge (5"x10")
CQE-RC-

04035
Customer Reviews
Write a Review
Ask a Question
Filter Reviews:
plumber
system
home
water
estimate
tankless softener
boxes
valve
operation
trip
03/14/2020
Michael R.

United States
Great Whole Home Filter System
I have had the system in full operation for 4 days now and am really enjoying it. I originally ordered everything the 7th of February and was told to expect 10-14 days for arrival. It arrived in less that 5 days and my wife had to move the heavy boxes on her own :-(. When I got home from my trip, I opened everything and discovered that the up-flow valve for the tankless softener was missing from the shipment so I had to call and get it sent to me. That meant canceling the plumber install and postponing until the valve arrived. A week later, the plumber was able to come and provide an estimate. Fast forward another week and installation begins but discovered that my water pressure was at 120 psi. System remained in by-pass for another week until the plumber could order and install the pressure reducer and on 11 March, finally in full operation! The first day after install the water tasted a bit funny but now everything is great and we are enjoying the system very much. Thank you Cyrstal Quest for working through the process and getting me all the help and assistance needed.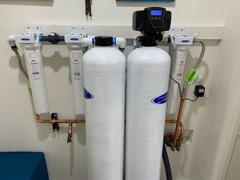 01/05/2020
Zachary B.

United States
Could not be happier!!
We had above recommended drinking levels of arsenic in our water. After talking to a few name brand installers about a whole house system, I decided to do this myself for half the cost. The Crystal Quests system arrived on time and was well packaged, installation was easy and clear with solid instructions. And the best part, tested the water and arsenic levels were 'none detected'. Thank you!
Too soon to give real feedback
I received the Whole House Filter system in a timely manner. I will have a professional plumber install it on Monday, 12/18/18. I'll provide additional feedback after 30-days when this system is operating in my home.